Early Warning and Action Saves Lives – World Meteorological Day 2022.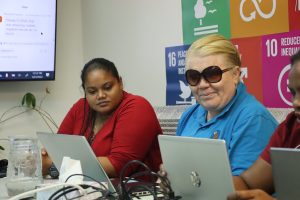 Early warning and swift action when adhering to advisories from the Meteorological Offices can save lives of persons with disabilities during natural disasters.
As the world celebrates World Meteorological Day 2022, the Pacific Disability Forum (PDF) acknowledges the contribution of the various National Meteorological Services and Hydrological Units in the Pacific that work closely with Organizations of Persons with Disabilities (OPDs) in the region.
The vital information from the various National Meteorological Services assists in Inclusive Disaster Risk Reduction work which is a thematic and important area of work for PDF and its member organizations in 22 Pacific Island Countries and Territories.
Timely, accurate and accessible information from National Meteorological Services plays an important role in ensuring that persons with disabilities are not excluded and left behind. It is frequently reported that when a disaster strikes, persons with disabilities are disproportionately affected and become more vulnerable due to multiple reasons, one of which is lack of accessible and simplified information and lack of accessible mode of communicating such information.
The Pacific Disability Forum and OPDs are closely working with the various National Disaster Management Offices in the 22 member countries to ensure that once a warning is issued, activation of disaster preparatory work is undertaken such as such as setting up of disability emergency operation centers and getting in touch with persons with disabilities in affected areas.
To demonstrate its commitment, PDF has set up its Humanitarian Resilience Development Unit to ensure that persons with disabilities in the Pacific through their respective OPDs are assisted through targeted and inclusive approaches in disaster risk reduction and climate action programs.
As we celebrate this important day, PDF also calls on all humanitarian actors to ensure that any work being implemented in country is both accessible to and inclusive of persons with disabilities. Early warnings and early action can save many lives and accessible information enables persons with disabilities to act before a natural disaster strikes – this links closely with the mantra of "Leaving No One Behind."
For more information, please contact Paradise Tabucala on Paradise.Tabucala@pacificdisability.org or call on +679 8990134.