The Pacific Disability Forum has undergone a rebranding exercise to reflect the dynamic and the new direction forward which has been forged for by the Organization.
This is the first time the Forum has undergone such an exercise. The logo of PDF has a canoe as well as a sun and is enclosed in a circle. This signifies the various Organizations of Persons with Disabilities (OPDs) in the Pacific, all in a common journey towards one goal – disability inclusion and a barrier free Pacific. The sun plays an important part in this journey as it acts as an energizer or driving force.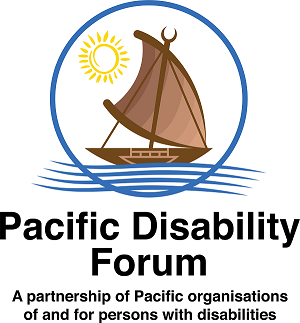 The Forum formerly had orange as its identifying trademark color however as part of the rebranding exercise, the Forum will now be identified by the royal blue color which signifies the trust placed on the Forum by its members and stakeholders. Another reason for the choice of color is that the work being done by the Organization focuses on developing and strengthening the capacity of national organizations for persons with disabilities and these island countries and states are surrounded by the massive Pacific Ocean.
The initiative is encompassing of the whole logo, which includes a canoe or drua, with the sun and waves undergoing a modern retrofit. The canoe moves from the left and now faces the right and has the sun behind the canoe. This signifies that it is now headed towards the future with the support of the Secretariat and the Forum members, a bright future loom ahead.
The rebranding is part of the PDF 5 year Strategic Plan with the theme, "Towards an inclusive and resilient Pacific for all Persons with Disabilities."
Source: PDF Secretariat